Individual families can use this resource for free. Just visit

http://holyweek.pastoral.center

.
Parishes, schools, and dioceses, please add to your cart and check out (no payment needed).
Help your families deepen their faith as they build the domestic church.
HolyWeek@Home is a free online resource to help families with children pray and learn together at home while we are unable to gather in our parishes and schools. It incorporates our Worship@Home services and much more.
We are offering this online resource for free, but we have some requests. We ask you to please follow these steps:
Spend some time reviewing this site at http://holyweek.pastoral.center and understanding what you can share with your families. Just click on the buttons for the different days at the top of the page. If you have any questions about the worship services, please read the leader page on our Worship@Home site.
Please register for free if you wish to share this resource with your people. Simply add this product to your cart and checkout. When adding it to your chart, you have the opportunity to make a free will offering. We ask that you prayerfully consider the value of this resource to your community at that time. There is no obligation to donate, but any amount helps us sustain our ministry.
Get the word out to your people. Be sure to send them to the top of this website: http://holyweek.pastoral.center. It is VERY important for you to persuade your families with a personal note, if possible. The best ways to get the word out are through email or social media like Facebook. It's a great idea to post on your parish website, but don't assume many people will be looking there. Consider even mailing out postcards or letters through the postal mail. We encourage you to freely use the banner image further below on this page.
Help us spread the word to other leaders. Tell those you work with, your diocesan leaders, and those you know from other parishes or skills. We don't have much time before Holy Week begins, and we want to welcome as many families into this experience as we can!
Thank you for letting us serve you from our Pastoral Center online through our Growing Up Catholic ministry. It's an honor to work with pastoral ministers like you!
— Paul, Ann, and the Pastoral Center team
Banner image: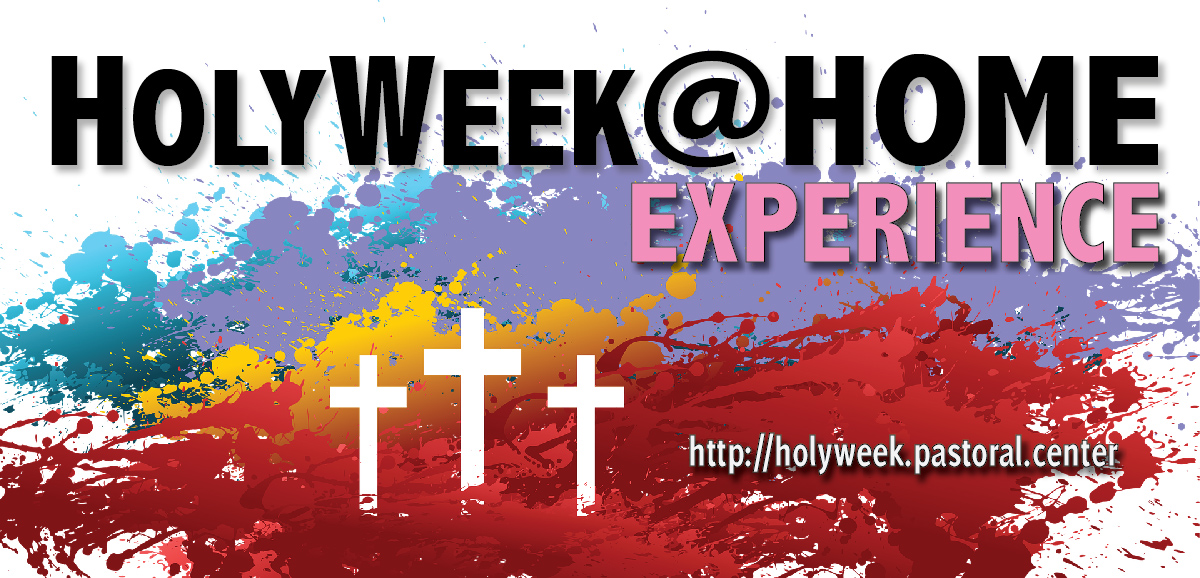 Product Preview
This is a shareable product with some restrictions. Please read the full license terms below.
Product License
This reproducible eResource is sold with a one-year license for use within a parish, school, or diocesan office. You are allowed to distribute by email, website, or social media sites or websites. You are also allowed to make unlimited copies for use within your own community. If you serve more than one parish or school, each should purchase its own license. Please contact us if you have any questions. Thank you for cooperating with our honor system regarding our product licenses.
| | |
| --- | --- |
| Format: | eResource |
| Product code: | GUC508 |
| Publisher: | The Pastoral Center |
Author
Paul Canavese serves as director of The Pastoral Center (PastoralCenter.com), author, frequent conference speaker, and pastoral consultant. He has his MTS from the Franciscan School of Theology in Berkeley. He directs GrowingUpCatholic.com (focused on coaching parents) and GospelLiving.org ("intentional daily life Catholicism"). He has served in a wide range of parish ministries, most recently as a pastoral consultant at Corpus Christi Parish in Piedmont, CA. Paul also has 20 years of experience in software development and management with technology startups and social media. Along with his wife Ann, two daughters, and seven chickens, he lives in Alameda, CA, where they operate a mini-urban farm and looks for creative ways to build community in their neighborhood.
View all resources by Paul Canavese
Ann Naffziger has her MDiv from the Jesuit School of Theology and MA in Biblical Languages from the Graduate Theological Union, both in Berkeley. Ann has worked in a variety of parish roles, as well as serving as a hospital chaplain, spiritual director, scripture instructor, and lecturer at the Jesuit School of Theology at Santa Clara University. She has written articles in the field of spirituality and scripture for America, BustedHalo.com, Commonweal, The National Catholic Reporter, Spiritual Life: A Journal of Contemplative Spirituality, and other publications. She is also a Master Gardener and girls' softball coach.